• Yehuda Remer
I don't care about Gina Carano's boop/bop/beep statement nor do I care about her support of Trump.  I don't care about her "Epstein didn't kill himself" comment because frankly, I'm with her on that.  Yes, I don't care about any of those.  What I do care about and what I'm going to concentrate on is the one statement she made regarding Jews and Nazi's. Supposedly this was the one that broke the camel's back.  If you haven't heard, Gina Carano has been fired from The Mandalorian.  Disney has canned her because of a series of posts that I mentioned above. ...
---
• Yehuda Remer
Yesterday, something happened on social media that has never happened to me before.  I changed my personal profile image to a new design I sell on my website.  I had a few likes but nothing big.  Then six days later, a gentleman who I don't know, nor did I ever have any sort of contact with him before comments on the post and says, "No one believes you are actually Jewish."  Wait! What?  Look, I've been called a Right-Wing Nazi, which is amusing in itself, but never have I been told that no one believes I'm actually Jewish.  My immediate...
---
• Yehuda Remer
Those that have been following my career in the firearms industry for the last 4 years, know that I not only run a pro-gun apparel brand, but also write children's books on firearms safety and 2A education.  As a father of three rambunctious children who keep my wife and I on our toes, educating them on aspects of life is always a challenge.  But one thing is for sure!  No matter what comes up, firearms safety is no longer an issue in my household.  Let me explain. This past Monday, Democratic State Senator Antoinette Sedillo Lopez introduced SB 224 which would criminalize...
---
• Yehuda Remer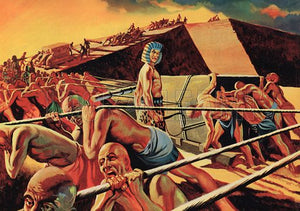 This week's Torah portion that Jews around the world read is called Bo.  It's the third chapter in the book of Exodus.  In it, we read about the last three plagues God brings down upon the Egyptians as well as the Exodus of the Jews leaving the land after 210 years of slavery. The Jews living in Egypt were forced into back breaking labor and subjected to murder and rape.  There was no avenue of escape under the despotic Pharaoh.  Plague after plague decimated the land of Egypt and still, tyranny prevailed because of Pharaoh's stubbornness.  At long last, after...
---
• Yehuda Remer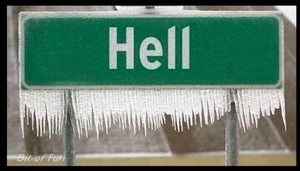 It was bound to happen, eventually.  Countless times a day people around the world threaten that if such and such happens, hell will freeze over.  And now, it did!  But who the responsible party is will shock you? The people in hell were shocked to wake up to extinguished fire pits, snowcapped volcanos, and icicles hanging off their pitchforks. "There's a certain chill here in hell that we've never experienced before," remarked Mayor McBerny. "And unfortunately, there is nothing we can do about it because of who is responsible." When pushed to give a name, McBerny just told us to...