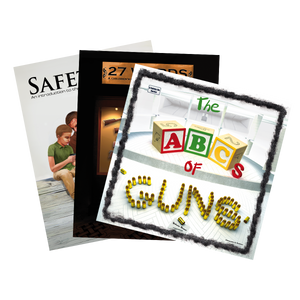 2A EDUCATION PACKAGE
Regular price
$65.00
$0.00
Educating your children on the Second Amendment is a must.  That includes not only the reasons why we hold the 2A so dear and how it protects our freedoms, but firearms safety and the basics of guns.  Now, you can get in a package deal, a 2A educational combo that is there to ensure your child is taught the beauty of all things firearms, especially how to be safe. 
SAFETY ON: What would your child do if they found a gun somewhere it's not supposed to be?  Do they know the cardinal rules of gun safety?  What about the proper safety measures every gun owner takes at a gun range? Do they know the proper protocol? This book aims to cover all aspects of gun safety as an introduction to the world of firearms for children. 
27 WORDS: 27 words are all that separate Americans from tyranny. In the new book from author Yehuda Remer, he breaks down the 27 words of the Second Amendment in the way the Founding Fathers originally had intended but for kids. With children's education being under attack, a book about the freedoms we as Americans hold dear and the importance of the one God Given right that protects all the others has never been more needed.

27 Words: A Children's Guide to the Second Amendment aims to teach kids the importance of the right to bear arms and what it means to the future of our country.
THE ABCS OF GUNS:  The ABCs of Guns is a new and fun way to teach your kids the ABCs while also helping them take their first steps in recognizing aspects of the Second Amendment world. This first of its kind alphabet book combines the ABCs with stunning and clear original photos making it the perfect gift for baby showers, birthdays, or the holidays! Perfect for kids ages 0-5, The ABCs of Guns is a great way to teach your child that X stands for more than just for Xylophone or X-Ray.
---
Share this Product
---
More from this collection